UO > About > Organizational Structure > Faculties & Institutes > Faculty of Education > Departments & Centres > Department of Technical and Vocational Education
Ladislav Rudolf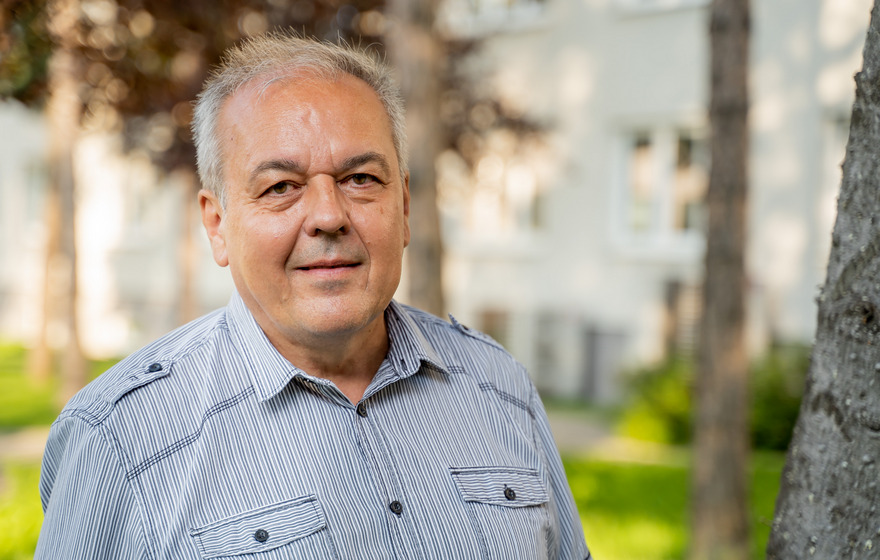 Academic degree, name, surname:
doc. Ing. Ladislav Rudolf, Ph.D.
Research interests and teaching:
Phone number, mobile:
+420 553 46 2615
No record found. Database Maintenance.
Macháč Petr
The importance of an integrated rescue system and its use in education
Neumann Lukáš
Sources of elektricity and their connection into an industrial area
Řezáčová Zuzana
Effectiveness of Barist´s Courses at Hotel School
Bitta Karel
Security systems in households and public buildings, integration into education
Ferešová Martina
The Use of E-Shop for the Possibility of Exporting Goods to the German Market, Integration of the Problematics in Education.
Nevřela Tomáš
The educational use of photovoltaic systems
Babák Jan
Protection of the population in the Czech Republic in relation to pupils of secondary schools
Baďurová Markéta
Apply of occupational safety and health precautions and civil protection in educational facilities
Kupková Zdeňka
Modernization of ICT teaching in educational institutions
Zabavský Roman
Creation and use of educational materials for security searches
Macko Martin
Training of workers in electrical engineering
Řehulka Josef
The Design of Study Materials for Specific Subjects on Electrotechnics
Klega Petr
Creating materials from the sphere of crisis management and their use in the secondary school education
Kurečková Kateřina
Innovative educational approaches in the Hairstylist course of study
Lukeš Pavel
OHS (Occupational Health and Safety) of students during vocational training for manual and machine processing of materials
Mazáková Klára
Business analysis in business activities and innovative approaches
Mück Martin
Learning tool of OHS (Occupationl Health and Safety) for working in electrotechnical laboratories of secondary schools
Kučírková Jaroslava
Healthy diet in the life of people, use in educational proces
Mrázek Michal
ICT Education in upper secondary school and its reflection by first year students of teacher training disciplines at the university
Obdržálek Pavel
Mechanical recording and reproduction of sound in the 21 st. Century and its use in education
Raušer Jiří
Occupational Health and Safety at Work of apprenticeship students when working with woodworking machines
Rohelová Sylvie
Creating internet environment for businesses and it´s, use in education
Bednář Vladislav
TECHNOLOGY EQUIPMENT OF MULTIMEDIA CLASSROOMS AT SECONDARY SCHOOLS
Beke Šárka
Modern trends in " HAIRDRESSING", thein use in educational proces
Besta Václav
USE OF ELECTRICAL MACHINES IN TEACHING VOCATIONAL SUBJECTS
Koňaříková Iveta
New forms of teching OSH cooks weiter and Hospitality
Kratinová Olga
Workplace health and safety in the sphere of professional education
Losková Blanka
Moderní domovní instalace, modelové stavy zabezpečení objektů, využití ve výuce odborných předmětů
Mergl Antonín
Marking of escape routes in schools for evacuation needs of persons with reduced mobility
Novosadová Andrea
ERGONOMICS AND HYGIENE OF WORK IN A MULTIMEDIA CLASSROOM
Pavelková Andrea
Development of paper money from the point of view of trading and paying
Šimon Jiří
RENEWABLE ENERGY SOURCES IN EDUCATIONAL TECHNOLOGY
Vrbica Zdeněk
Offset printing technology for the production of educational materials
Vrzala Radim
SOLAR ENERGY RESOURCES, THE UTILIZATION IN PROFESSIONAL SUBJECTS
Gacíková Lucie
Trading on the Internet, using the issues in the educational process
Knížová Pavla
Using of internet portals for gaining knowledge in field of the vocacional courses thematic group
Vitásek Martin
Creation and use the Multimedia Teaching Aid for Specialist Subjects
Besta Václav
Use of information technology for teaching the subject Electrical Measurements
Brablíková Lenka
New trends in the area of safety and healt protection training for the cook-waiter field of study
Neuwert Miroslav
Electricity generated from fossil fuels and methods to reduce costs, application in education procedure
Štveráková Šárka
Internet as a tool for education and use of students of secondary
Cyhan Bohuslav
Modern teaching methods to house wiring problem
Kamarádová Zdeňka
Numismatics, its sens for investing
Šlapák Pavel
Electric Appliances At Home
Zwettlerová Radomíra
Using of multimedia in swimming instruction
Bobrová Lucie
Using of Internet for the Study and Verification of Knowledge
Drkula Emil
System of positioning and navigation in the HZS Olomouc region using GPS
Křikalová Dana
Classification of financial literacy in the ŠVP
Marek Zdeněk
New rules on work safety for Professional training courses in low voltage
Ocelková Darina
History of numismatics in Bohemia and Moravia region
Peterková Zuzana
Coins from rare metal, its purpose, use in investing and collecting
Timková Darina
Selected Methods of Retraining in the Field of Occupational Safety and Health in Hairdressing Courses
Bednář Vladislav
The operation of information technology devices with regard to saving electrical energy
Hásová Renata
CREATION AND USE LEARNING MATERIAL TO ECONOMICS FIELD
Jurdičová Olga
How to use the Internet to communicate in the educational process
Grzegorzová Hana
The Possibilities of Usage of Payment Cards in Non Cash Payment and Everyday Life.
Krupková Kristýna
Non payment system and new trend of payments
Martínek Petr
Measurement on the model of three-phase system using RC 2000 kit
Petrůjová Pavlína
The development of money and using them at present
Plaček Zdeněk
Elektricity industry around us (creation of multimedia utilities)
Pustějovská Gabriela
How we can use information technologies in education and teaching
Šubertová Jana
See and Ground as important sources of energy for the future
Franek Lubomír
PRODUCTION AND TRANSFER OF ELEKTRIKAL ENERGY
Hrabák Ladislav
RENEWABLE RESOURCES OF ENERGY
Koval Zdeněk
Electric machines (making the training instruments for technical secondary school)
Vícha Petr
INTERNET AND ITS USE IN THE TEACHER AND STUDENT RELATIONSHIP
Grossmann Jaroslav
Multimedia and their usage in the education
Lazarczyková Barbora
Use Of Multimedia In The Process Of Education
Pospěchová Sylva
Využití moderní techniky ve výuce na základní a střední škole
Fišer Martin
Education of Volunteer Fire Brigades Units in the Field of Radio Communication Systems Used at the Fire and Rescue Service in the Czech Republic
Rivcová Michaela
Electrotechnics around us with focus on education
Trvaj František
Students literacy regarding energy on secondary school
Viktorin Erik
Technical experiments using electrical structures and their use in education
Brtus Vojtěch
Use of Internet Auctions in Education-related Trading
Ondo-Eštok Vítězslav
The use of commemorative coins in trade, investment and collecting
Ondo-Eštoková Lucie
The use of health and safety in kindergardens
Šlahorek Martin
Interactive whiteboards in the teaching of specialized subjects
Jonszta Nikol
Security assurance in educational centres
Šoch David
Innovation of Materials in the field OSH in the Company
Vašková Veronika
Inclusion of energetic literacy in the framework educational programs of high School
Bitta Karel
Electrical installation with modern systems, creation of teaching material
Chylinský Jaromír
Methods of cooperation between enterprise company and educational units in the area of study excusions organizing
Ferešová Martina
Safety signs in the premises of secondary school
Neumann Lukáš
Energy sources for heat and power generation
Reinold Tereza
Formation of paper cash and their in the Czech countries
Nevřela Tomáš
Computer-aided electrotechnical kits and thein use in education
Škuta Ondřej
The use of Digital Technologies in The Vocational Subjects Edukation aimed at Gastronomy
Babák Jan
System of training on occupational health and safety at work in Police of the Czech Republic
Ihn Lukáš
Creation of model situations on wiring panels as part of practical education
Polák Jiří
Inspection and safety of elektrikal equipment, application in education
Ptašek Daniel
Safety at work and ensuring aggregates, new trends in securing LOTO
Řehulka Josef
Creation of didactic tools in the electric power engineering
Štěbra Michal
Modern household electric installations and their application in vocational subject tuition
Dotisk Jan
Energetic literacy in primary and secondary school
Kozárová Kateřina
Financial literacy seniors
Klimunda Petr
The use of electrical devices in electric power systems and vocational Education
Obdržálek Pavel
Backup electric power supply
Peterek Vít
The use of new trends on the internet for the sharing of information in education and practice
Prokop Jaromír
The using of industrial automatic machines LOGO-SIEMENS in specific subjects tuition
Rohelová Sylvie
Internet banking in the context of financial literacy, benefits and risks
Weiner Petr
Creation of modern electronic textbook for Informatics
Zielonka Tomáš
Creation of educational materials specialized in synchronous and asynchronous motors
Černota Petr
Use of Internet Auctions in Trading
Losková Blanka
Application possibilities of modern domestic electrical intallation in education and praktice
Šimon Jiří
Generation and transmission of electric power, its use in education
Vrzala Radim
The importance of the transmission system in the energy state (creating a multimedia tool)
Bučková Hana
Multimedia and their usage in professional subjects
Pavelková Andrea
History of creation and development of post stamps ,use in commercial relation and personal activities
Pospíšilová Marcela
Using of Internet for the Study and Verification of Knowledge
Novák Vít
Source of solar energy (make multimedia tool)
Pácha Josef
Internet communication and its use in education
Podlucký Martin
Use of information technology in education
Šimon Zdeněk
Power Engineering I - production electric energy (make text support for education)
Neuwert Miroslav
Design of the paper banknotes including their usage within Czech-speaking countries
Niemczyková Jolana
The use of modern technologies in the educational process
Palička Jiří
Electric Appliance at Household (creation of multimedia instrument)
Pítrová Miroslava
The history and development of mints in Bohemia and Moravia
Rivcová Michaela
Electrotechnics around us with focus on education
Sousedík Miroslav
Secondary School Education of Electro-Branches by Means of Modules
Bobrová Lucie
Using of internet in the educational process
Pastrňák Marek
Use modern computer technology in education
Peterková Zuzana
History and using of banknotes since foundation of Czechoslovakia
Podešva Libor
Final Measurement Of The Local Telecommunications Network Cables
Rotreklová Šárka
History of postal stamps and their useing in business connection.
Šlapák Pavel
New trends in the filed of safety & security of health when working at the apprentice workshop
Cyhan Bohuslav
Measurement of electrical quantities in the laboratory models in the field of education at primary and secondary schools
Hásová Renata
How we can use computer technology in education and teaching
Kamarádová Zdeňka
Commemorative Coins ? their purpose and utilization
Marek Zdeněk
ELECTRICIAL KITS AND THEIR USING IN TEACHING
Šubertová Jana
ALTERNATIVE ENERGY SOURCES - USING THE ENERGY FROM THE SUN
Bednář Vladislav
Transformers, Proposal of Educational Programme
Besta Václav
USAGE TUTORIAL SYSTEM MICRO LABORATORY BRICK - BOX rc2000
Honka Zdeněk
RENEWABLE RESOURCES OF ENERGY - CREATED MULTIMEDIA UTILITY TO LESSONS
Krupková Kristýna
HISTORY AND FUTURE OF MONEY IN THE REGION OF CZECH REPUBLIC
Petrůjová Pavlína
History and using of money in Czech countries
Pustějovská Gabriela
HOW WE CAN USE COMPUTERS IN EDUCATION AND TEACHING
Friedrischek Zdeněk
INTERESTING ENGAGEMENTS FOR EDUCATION ON HIGH SCHOOLS
Vaněk Tomáš
Computer like helper teacher revolting articles
Koval Zdeněk
Elektrotechnika kolem nás se zaměřením na světelnou a tepelnou techniku
Navrátil Miroslav
Užití elektrické energie ve výuce odborných předmětů na střední škole se zaměřením na využití elektrického tepla v rodinném domě