UO > About > Organizational Structure > Faculties & Institutes > Faculty of Education > Departments & Centres > Department of Social Education
Hana Cisovská
Department Administrator

"Now that we have learned to fly in the air like birds and dive in the sea like fish, only one thing remains - to learn to live on earth like humans."
George Bernard Shaw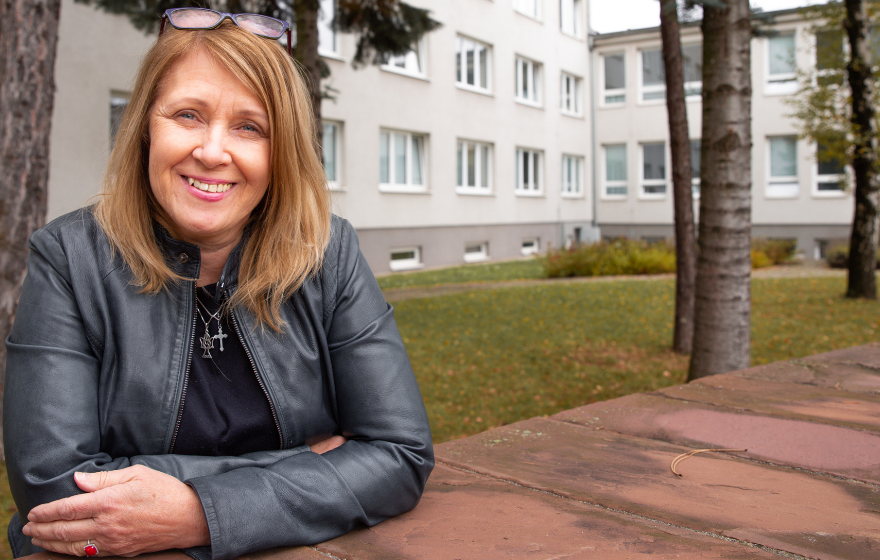 Academic degree, name, surname:
PhDr. Hana Cisovská, Ph.D.
Position:
Department Administrator
Research interests and teaching:
social pedagogy, teaching drama
Phone number, mobile:
+420 553 46 2658
No record found. Database Maintenance.
Bágarová Michaela
Theatre of the oppressed as a tool of reflection in work with children from socially disadvantaged environment
Chmielová Jolana
Factors of meaningfulness and satisfaction in life of young adults
Fajová Radka
Theater forum as a method of preventing cyberbullying
Huvarová Jana
Mental hygiene of teachers
Jurošková Petra
Family mediation from the perspective of its participants
Návratová Martina
Theater forum as a program of primary prevention of risky behavior in the context of cyberbullying
Pískala Vojtěch
authority through the eyes of adolescents
Klímová Kateřina
Support for education of children and youth from socio-culturally disadvantaged backgrounds
Podaný Adam
Homosexual pedagogue in the czech education
Prokopová Šárka
Support measures for inclusive education through the eyes of teachers
Šiml Michal
Behavioral problems of clients of Institute of social care
Močidlanová Martina
The using of reminiscent therapy at work with elderly
Pustówka Dominik
Development number of scout members in Moravian-Silesian area, or "Why the number of members is growing more slowly than elsewhere"
Silberová Aneta
Using methods od dramatic education in the art discipline at the Primary school of art
Balonová Soňa
Bringing up a child in a single-parent family
Janošková Veronika
Dealing with aggressive behaviour of children from perspective of kindergarten teacher
Vilčeková Lenka
Problems caregivers taking care of unselfsufficient seniors at home
Blažková Leona
The use of social networking by adolescents and its impact on the quality of communication with their parents
Heincová Markéta
Client satisfaction with communication in office work.
Buchtová Jana
The Role of Drama Education in Training of Pedagogues
Krzaková Věra
Seniors on Facebook
Mrózková Ria
The structure of pedagogical communication between teacher and pupils at primary school
Šelongová Marcela
Support for senior citizens within the municipality in preventing of so-called dishonest sales practices
Táborská Táňa
Proffesional training of the Czech Republic Police in the area of communication and the following application of gained communication skills in the crisis situations
Válková Ludmila
The Education of the Crisis Interventionists
Vinklárková Veronika
Value orientation in children in a foster home
Fofová Ivana
Fine relaxation techniques for children difficult to train
Dvořáková Petra
Influence of the Internet on teneagers communication
Ottová Zuzana
The Puppet and Its Application in Work with Pre-School Children
Secová Jana
Image of leisure Centre Korunka
Seifertová Petra
Drama and developing core competencies in primary education
Pavelková Blanka
Teacher´s Pedagogy Communication at Basic School
Goldová Jitka
Dramatic education and kurikulum
Křivánková Michaela
Teacher's parol speech at elementary school
Polášková Jana
Highly-regarded and experienced teacher of drama studies
Škvaridlová Lucie
The theatre Forum and its usage in resolution actuall teenager´s problems
Baronová Helena
Drama education in primary school intent on manhood phenomenon
Fialová Klára
Communation in lessons of dramatic training in primary education
Krayzlová Renáta
Dramatic education and its place in the school education curriculum
Loňková Pavlína
Possibilities of Drama in Education in the Development od Social and Personal Competences in Primary Education
Ulrichová Jitka
The role of games duriny lessons in classes 1-5 at elementary school
Böhmová Lenka
Possibilities of the education game in advancement elementary schoolchildren´s key attributions
Holaňová Kateřina
Drama techniques in primary curriculum subjects
Branná Barbora
Drama classes in education of pupils with hearing difficulties at First grade of primary school for children with hearing difficulties
Hoblíková Jana
A role of a game in adapting of first grade pupils at elementary school
Kastnerová Andrea
The use of drama education methods in project-based teaching
Kovářová Martina
The communication amongs the teacher and the pupils in the lesson
Lipowská Jana
Condition analysis in dramatic education at the first grade of primary school (in Karvina district)
Ondrušková Michaela
Dramatic education and framework programme
Pahorecká Žaneta
Possibilities of Usage of Drama Education in Development losing the problems and decision aqirement Competence in Primary Education
Vyvialová Zuzana
Development of cooperation among pupils of the elementary school by using the drama games
Drabinová Michaela
Formy dramatické výchovy v Rámcovém vzdělávácím programu
Frončková Jana
Dramatic Improvisation as a Way of Attaining a Desirable Self-confidence
Hendrychová Ilona
Personal and social education of elementary school child
Hopianová Lucie
THE USAGE OF DRAMA EDUCATION IN THE LEISURE TIME INSTITUTIONS
Lhotský Luděk
THE EXAMPLE`S COLLECTION OF ?LINEAR ALGEBRA? FOR STUDY OF TEACHING PROFESSION FOR SECOND STAGE OF THE BASIC SCHOOL ? EDUCATIONAL SOFTWARE CREATION
Moravcová Kateřina
Drama Educational like Methodos class in primary education
Pytlíková Tereza
Dramatic education end school program of education
Tužinská Lenka
POSSIBILITIES OF DRAMATIC EDUCATION FOR CREATING POSITIVE RELATIONSHIPS AND CLIMATE IN A CLASS
Fojtová Petra
Metody dramatické výchovy ve výuce jazyka českého na 1. stupni základní školy
Hošková Eva
Uplatnění hry a dramatické hry ve vyučování
Žídková Petra
Dramatická výchova v primárním vzdělávání ve Frýdku-Místku
Lyčková Kateřina
Hodnocení a sebehodnocení v dramatické výchově
Peřichová Kateřina
Využití metod dramatické výchovy ve vyučování na 1. stupni ZŠ
Rabatinová Soňa
Využití dramatické výchovy jako vyučovací metody na 1. stupni ZŠ
Říhová Lucie
Methods of drama in the development of preschool age
Kika Miroslav
USE OF THEATER IN SOCIAL PEDAGOGY
Balážová Veronika
Homoparentality through the eyes of the younger generation
Biková Nela
Perception of the burden on workers in a home with special regime
Debabi Marie
Use of experiential pedagogy in children´s home
Hájovská Růžena
Cooperation between Pedagogue and Assistent of Pedagogue in Preschool
Nedbal Alex
Transsexuality Female to Male- integration into society and family
Olšarová Kristýna
The use of drama education for graduates of social pedagogy
Svoreňová Michaela
The theatre of the oppressed as a way to developing professional competence of a social educator
Bágarová Michaela
Uncooperative behaviour of children placed in children`s home during drama education
Bílková Jitka
Motivation to change addiction behaviour in counselling for people with alcohol addiction
Dančáková Ivana
Drama education as a way to develop key competencies
Fajová Radka
The choise of children old school age for spending free time
Hrda Tomáš
Minorities intolerance in the Czech army
Jurošková Petra
The issue of inclusion a Roma pupil into a non-Roma class collective
Návratová Martina
Theatre inscenation as a possible part of reminiscence therapy
Pejšová Dagmar
Activities in the senior stage of life
Stoszková Michaela
Realization of dramatic production for seniors and its contribution to students of social pedagogy
Zemanová Klaudie
Motivation of parents to select Montessori kindergarten
Kovácsová Eliška
Parent's motivation in choosing an elementary school for their child
Koval Tomáš
Experience of pupils from secondary school with addictive substances
Macháček Libor
Effect of canistherapy in the care of the elderly
Macurová Anna
The phenomenon of age from the point of view of the younger generation
Onderková Ivana
Preparation of clients from children's homes for their future independent lives
Pavlásková Alžběta
Communicative competence of a teacher assistant in a class at elementary school
Pščolková Lada
Support of Prosocial Behaviour of Adolescents in the Czech Sokol Community
Stehnová Jana
Reeducation processes at the Juvenile Diagnostic Institute in Ostrava
Svozilová Anna
Social climate at Montessori school
Šemorová Barbora
Attitude of young adults towards marriage
Fajčáková Veronika
Causes of indiscipline among pupils in the second stage of primary school
Frýdlová Kateřina
Do not mind the slanders and squabbling
Klímová Kateřina
Educational Consultancy Activities at Czech Primary Schools
Kociánová Barbora
Leisure activitis of clients in social care homes for mentally disabled
Bodnárová Lucie
Divorce and its influence on the child
Divínová Veronika
The motivation of teenagers in Zlín region for spending their free time in a choir
Madejová Klára
Volunteering of Fusion Czech republic
Chudějová Karolína
The social climate at the Montessori school
Fukalová Marie
Social Pedagogy Students´s Satisfaction with Their Course Plan
Grocholová Gabriela
Listening as a part of pedagogical communication of educators in the after-school club
Hůlová Kristýna
Volunteer work in the organization S.T.O.P.
Pišlová Pavlína
Theater as social therapy
Šnajdrová Simona
One Brain Method: Working with Children with Attention Deficit Disorder
Šnejdarová Jarmila
The importace of musical collective artistic activities to creating a climate class
Békešová Barbora
Social climate of Waldorf school
Benešová Sandra
Leisure time activites of school-age children
Dobiášová Veronika
Use of drama in the work of the educator school club
Juráňová Lenka
Making theater productions with children in leisure activities
Kramplová Lucie
Dramatic Education as an Instrument of Improvement of the Communication at a Primary School
Moravcová Barbora
The development of communication of the physically handicapped people through drama education
Otrubová Vendula
Options clients activation with Alzheimer's dementia and their integration into society
Ozdincová Jana
Meaning of drama education in building a climate class
Slípková Markéta
Nursery School by Acting
Smolová Tereza
Work with the earlier teen age children in drama education
Stoláriková Lucie
Readiness of teachers solving the problem of bullying in elementary school
Švrčina Dominik
The most commonly used parenting styles in families of second degree pupils of basic schools
Blažková Leona
Manipulation in relationship
Hrubá Sabrina Inés
Drama in education as a prevention of bullying
Lukács Mario
Difficulties of children from socially disadvantaged backgrounds entering the preparatory classes of primary schools
Nezmarová Andrea
The share of dramatic education in the development of a healthy lifestyle
Ponková Marie
Drama education in prevention of drug addiction
Pytlová Lenka
Options of primary school teachers to integrate students with disabilities
Slechanová Nikol
parental attitudes to the use of the Internet by children
Šebenová Ingrid
Adolescent and smoking
Walachová Barbora
Creative dramatics as a way to literature
Zemková Hana
Specifics of educational communication in the lessons of drama education
Barátová Markéta
Drama in the work of educator
Gajdzioková Tamara
TV in child´s world
Krzaková Věra
Social communication nowadays - Life on-line
Leváková Petra
Kindergarden teacher´s pedagogical communication
Macková Anna
Attitudes kk kindergarten teachers use drama in the school curriculum
Šelongová Marcela
Communicative between a client and social worker at the office and field
Žurková Karolína
Paralinguistic aspects of communication in fact-finding interviews
Maďová Jana
The development of communication skills of children through work with the story
Nešporová Veronika
Teacher's pedagogic communication in the maternity school
Opálková Petra
Developing communicative competence by children of different age groups in kindergarten
Pustowková Katarzyna
Developing pre-school children´s communicative competence
Korbelová Petra
Drama education and Framework education program
Neuwertová Petra
Drama education in preprimary school
Olšáková Pavla
Pedagogical communication of teacher in pre-primary school
Sikorová Lenka
Pedagogical communication of teacher in pre-primary school
Valášková Pavlína
Education assistant´s professional communication
Víchová Sylvie
Dramatic education and General educational program of preprimary education
Olšová Jana
Drama teaching in the pre-school education
Galiová Tereza
?Using Drama at work with children with mild mental retardation?
Heczková Daniela
Take advantage of dramatic education in school educational programme.